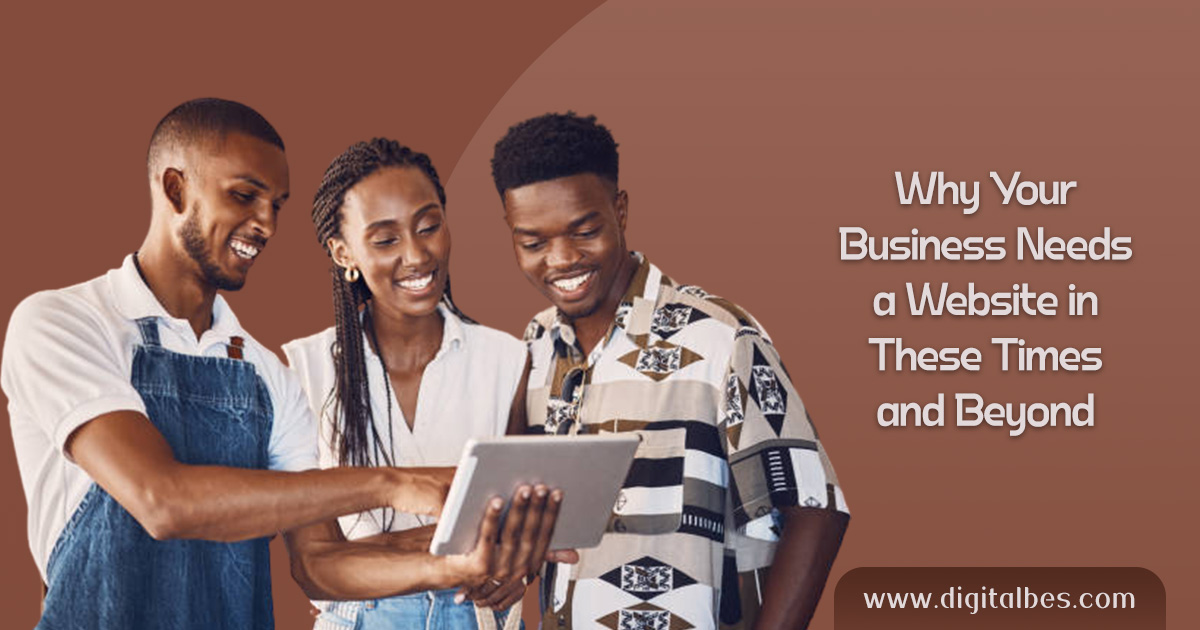 Why Your Business Needs a Website in These Times and Beyond
Whether you are a start-up or an established business, maximizing the reach of your product and services is your prime motive, as it will help in generating more leads and so more revenue. With the advent of digitalization in 2000, websites have become one of the prominent ways to increase your services or product reach to potential customers. Besides this, there are many other benefits of the website which help in enhancing your business growth.
In this post, we will cover 9 reasons why your business needs a website in these times or in the future. The two main weapons which increase the urge for online presence are- pocket-friendly smartphones and easily accessible internet at any time all around the world.
Don't you think these smartphones are everyone's cool buddy?
Using these smartphones we can search for any product or service in a fraction of a second. So if your business also has an online presence( your business website) more and more people will learn about your services.
Let's cover some more interesting stats supporting
why your business needs a website.
According to Statista, the number of digital buyers worldwide has increased in the past few years to 2.14 billion.
Around 4.93 billion ( 63.2 % of the world's population) people use the Internet worldwide.
We hope you enjoyed all these stats. Let's move on to cover the reasons why your business needs a website.
A Website Helps in Increasing Brand Awareness
The website showcases your brand for your target audience. To lead your competitors in the market, the most important thing you must do is to present who you are, what you stand for, and exactly what purpose you are serving.
You can convey to your customers where and how you are different from your competitors through your brand awareness. Thus, the customers get to know about you and get convinced easily to buy from you. Without a website, it's quite difficult to address the audience about reliable quality products and services. That's why increasing brand awareness is one of the top reasons why your business needs a website.
Let's take an example to understand this point, check out our website service page and see how effectively the website speaks about different services.
 A Website Improves Your Credibility
Do you know more than 75% of people confess that they judge a company's credibility by its website design? That's why one of the top reasons why your business needs a website is to enhance your enterprise's credibility. How?
As we know, there are various service providers offering services similar to yours, so the only way to stand ahead of the competition is by having a website. A website is the face of your business; talk to your customers on your behalf. More and more clients and leads will attract to your venture if you have an interactive site. This will help build an initial level of trust, keep them engaged, and prove you are credible.
Your Website can Attract New Customers (Organic traffic)
If you desire to increase your current business size, then let me tell you a website is the best way to attract new customers. A well SEO optimized (Search Engine Optimized) website can help your business rank well for various keywords and increase organic traffic on your website.
Once your business is online, try to optimize your website with SEO. It would assure a high chance of showing your web page in Google search results. More than 81 % of consumers, before making a purchase, are going to search for products and services online. This means whenever people search for any product or service; your website will be shown up in the result list.
Thus in this way, you can drastically increase your customer volume. Various free SEO tools help optimize your website without any prior training. 
A Website can Showcase Your Offers
It is one of the prominent reasons why your business needs a website. A website is the first interaction of your target audience with your brand. So how you position your business through a website is entirely in your hand. You can express yourself through your website.
Websites make sure your business is online 24/7. It acts as a medium to inform your customers about the latest updates through posts. Thus, you can regularly update everything you are doing in the catalog. Whether it's about a sale promotion or a new product launch, a business website would make it easier for you to update information quickly to your customers.
Through your website, you can not only display your offerings but also provide downloadable PDF instructions or short video tutorials. You can prove to customers that you are better than others by highlighting your awards and achievements. Displaying all of these on your website proves your expertise in the field and also results in customers spending more time on the website and might influence the decision to contact you. 
Website Provides Better Customer Service
Customers most of the time make a call to ask simple questions regarding operation hours and location. If any of the calls are missed, then it means that you left the customer unhappy. Calls during working hours also distract the employees from focusing on current tasks executed in the company.
Only a website can cut down the number of calls and increase your overall productivity. The website must help customers find all useful information so that they don't need to make calls and ultimately provide a great user experience. The contact us form or other website forms are very useful for customers to get a quick reply to their queries.
These days live chatbot option is also trending. A chatbot is a software program that processes and stimulates written or spoken human conversation. While chatting, customers feel no less like communicating with a real person.
You can Display your Best Reviews and Testimonials Prominently on your Website
Display customer testimonials and reviews prominently on your site for establishing social proof. It is also the major reason why your business needs a website. If your company has appeared in newspaper articles or popular blogs, then you can feature these on your web page. Customers read out reviews and customer feedback to check whether the information provided on the website is reliable and authenticated. You can permanently save the reviews on your site and access them even if the third party removes them in the future. If your company is service-based, you can make a separate section of testimonials and reviews given by satisfied clients.
If your company is product-based other than adding reviews of satisfied customers, you can compare the rating of different products. This will help new customers to make decisions fast. For example, check a product page on the Amazon website:
A Website can Encourage Customers to Contact You
A website plays a vital role in allowing your potential leads to reach you easily. How? You can publish your contact information in a header or footer so that your contact information appears on every single page. Digitalbes Limited provided addresses, phone numbers, services, and some other details on their website's footer.
Display your contact details on your website
Besides this option, there are many more ways to encourage customers to contact you through your website. Let's cover some major ones:
* Embed your website with maps to make it easy for your audience to get your business location without wasting time.
* Host events to attract more people to your company and post them on your site.
* Add a contact form on your website to avoid email spam.
A Website is an Integral Part of Online Marketing
Unlike the traditional form of marketing using print release, flyers, and print ads, a website is an excellent medium to inform your customers about the latest updates through posts and are less costlier than the traditional mode of marketing.
Traditionally, instead of spending a fortune and putting in lots of effort, the result of marketing is not up to date. While online marketing is less expensive and more effective, and results are visible within a short time. With the easy availability of smartphones and a feasible internet connection, your potential customer is always online. Don't you think you should stop chasing potential leads through traditional mode and start adopting the online mode to convert more leads into customers?
A website will be the final destination where you will be sending your customers via different channels like blogging, Social media, video channels, and email marketing. Hence, if you want to leverage online marketing, having a website is a must for your business. Whether it's about a sale promotion or a new product launch, a business website would make it easier for you to update information quickly to your customers. Once a developer builds your website, then it's important to update it regularly.
All of Your Competitors are Already Having a Website
This point might sound strange, but this is one of the biggest reasons why your business needs a website. You are not alone in the market selling particular products and services. More than thousands of companies are already selling the same product and services, and most of them are on the online platform with a stunning website.
You must be thinking my products are better than others, and they might be. But what about if nobody is aware of your outstanding product? So a website is the best way to increase the reach of your products and services and, in parallel, stand ahead of the competition.
All in all, we can say that there is no harm in designing your website. Your business only gains a lot by coming online in front of your potential customers, who are online most of the time using smartphones.