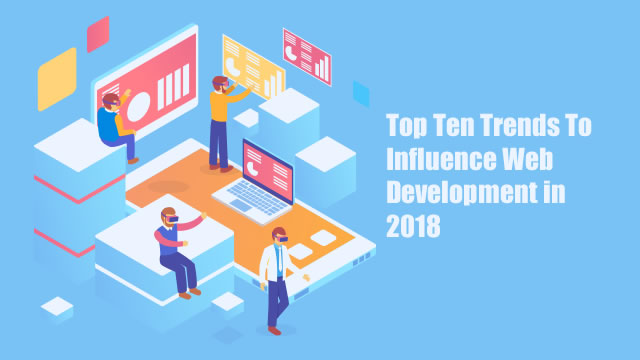 Top Ten Trends To Influence Web Development in 2018
Top Ten Trends To Influence Web Development in 2018 is the future of website development which is already changing the phase of the website. The thriving web world has over 1.8B websites and less than 200 million active websites to date. Every day hundreds of thousands of new websites are added to intensify the competition.
If you want to make your business website noticeable among all the active websites, you need to implement innovative ideas and follow the development trends. It is inevitable for web developers to keep future trends in mind while developing an enterprise-grade website.
After a lot of brainstorming, we have gathered the most precise predictions about the web development trends for 2018 and beyond.
Here we mention the top ten futuristic trends as a gist of collective thoughts of our experienced web developers:
The responsive web design approach is in vogue since 2015 when Google has started giving more importance to mobile-friendly websites.
As per the February 2017 report from Adobe, Accelerated Mobile Pages (AMP) are accounted for 7 percent of all web traffic for USA's top publishers.
Yes, this Google-sponsored open-source project has gained ground with the support of Bing, Pinterest, and Twitter.
AMP is designed to enhance the overall performance of web content and ads while improving website speed and user experience. It works seamlessly and people have started liking it. In a way, it is fair to mention that AMP is here to stay.

The Arrival Of Progressive Web Apps (PWA)
When it comes to bringing the best of mobile sites and native apps by leveraging the technological advancements, Progressive Web Apps (PWA) appear like a great concept.


It is based on the Internet evolution and adoption of HTML 5. You can provide the same functionality and flawless user experience to native apps with the help of PWAs.
The eCommerce giant Flipkart has introduced PWA and witnessed a 70 percent increase in conversions. Here is a Flipkart's case study that shows the impact of PWA in the online business.
How about giving your online support a chatbot advantage?
As per the research report of NewVoiceMedia, the US companies lose around $62 million every year due to poor customer services.
Chatbots can address customer support requirements quite effectively and you can count on bots for 24/7 assistance. There is no need to hire a full-time online customer service representative.

Push Notifications Prevail
Just like mobile apps, websites with push notifications can help you to reach a vast audience and leverage the benefits of online marketing. Push notifications are one of the most powerful solutions for engaging visitors and customers. However, you need to stay away from overusing them. You can inform your customers about special discounts, the company's customer-centric activities, and the like with the help of push notifications.

Static Websites Do Not Go Anywhere
Yes, dynamic websites are quickly outpacing their static counterparts. But, it does not mean that static websites are dead. Actually, as we witness an exponential growth in the number of websites in the web world, only simple and straightforward websites with a quick load time will succeed. Static websites can serve these objectives and provide a cost-effective option to business owners. However, the web design should be engaging and interesting for the customers.

Response Animation Idle Load (RAIL) designing concept is here since 2015, but, now we can expect that it will thrive in 2018 and beyond. The concept is associated with a faster load time (under 1 second) and the excellent performance of the website.
It focuses on pleasant user experience. A Smashing Magazine article has revealed that RAIL breaks down UX into tap, drag, scroll, etc. actions and provides performance goals along with a structure necessary for better performance. In brief, the RAIL concept is useful for web designers who follow the user-centric approach.

Motion UI Is Ready To Reign
Yes, today's web users want everything simple yet intuitive. Enter Motion UI. It can differentiate the design even with a minimalistic website with an elegant and useful interface. All it requires thorough research and proper implementation to work wonders for increasing the conversion rate on your website.
Motion UI includes animated charts, hovers, background animations, and beautiful headers. You can stand your website out from the crowd with the help of motion UI.

Browser Extensions Will Be More Popular
Google Chrome extensions are much in demand these days and a massive article titled 41 Best Google Chrome Extensions proves it! But then, people have started considering browser extensions as a threat to their privacy.
This is because such extensions can read a lot of online activities of the user with the help of various permissions. If you want to come up with the most useful extension, you need to take care of privacy protection.

VR and AR are futuristic technologies that are capable of changing the ways of interaction with websites. Companies like Google, Samsung, and Microsoft are investing a huge amount in these technologies. You can offer an immersive experience of the virtual world to the users with the help of VR.


On the other hand, AR shows a glimpse of a virtual world in the real world while enhancing the user experience. Now both these technologies are not limited to mobile apps. It is expected that their collective market size would worth USD $215 billion by 2021

Single Page Applications (SPAs) Will Thrive
Facebook, Gmail, and Github are highly popular examples of Single-Page Applications (SPAs). A SPA eliminates the requirement of reloading the web page when in use by loading all the content through JavaScript. SPAs work inside the browser and show natural behavior. Users like it because SPAs do not need additional waiting time, and directly render the web pages in the user's browser.


Along with these major trends, we can expect a few concepts like real-time web apps and functional programming will gain momentum in the year 2018 and beyond.
The contemporary web development frameworks like Node.JS and Angular.js are highly advanced JavaScript frameworks that enable web developers to build next-gen websites and web applications.
In this blog, we have covered almost all the most important trends to watch in 2018. You can get more insight into these trends from us. At Digitalbes Limited, our endeavor is to offer enterprise-grade web solutions to our esteemed clients worldwide. Just contact us with your idea, and we will convert it into a fully functional website.