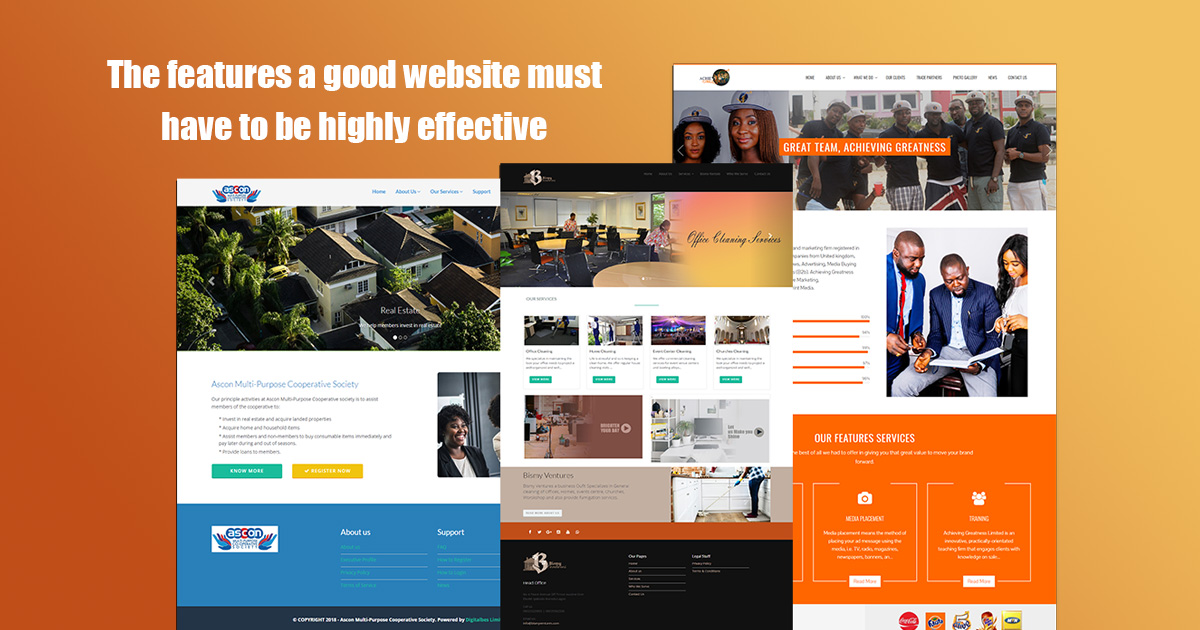 The features a good website you must have to be highly effective but before we dive into these features, let us look at the common mistakes you can find in almost all the websites today no matter how fantastic their designs are.
What you find more in the society are people who just learn how to design a website not for the love of the career but for the love of the money and that's why sometimes, they only design a website with images flying all around and feel the site is done but there are more to a website than just this.
These are some of the mistakes you can find which are hardly noticed either by you or the designer:
Not Enough Copy
Most people don't add much about their company on their website and some companies are afraid to put too much copy on their website. They worry that visitors won't take the time to read it or, that if they do, they'll have learned what they need to know and won't call. If they don't call, the company doesn't get an opportunity to interact with visitors and convert them into customers.
As long as you make your copy interesting and informative, you don't have to worry about overwhelming visitors. They'll find what appeals to them and skip over the rest. More information won't hurt. It helps visitors perceive you as industry experts, as an authority in your field.
But here's the important thing: if visitors don't find what they're looking for, they'll hit their back button, and you'll have lost them for good.
Who Are Your Target Audience
The most company website doesn't show who their target audience is and is always nice to declare your target audience, it will help connect with your prospective customers.
When a prospect lands on your website, you want them to be able to see themselves as potential customers. If you don't make that connection, you won't get a chance to make the sale.
No Differentiation from the Competition
Most of the websites don't seem to show the services they offer and in some case, they might be offering more of other services which will differentiate them from other competitors.
A Call to Action Is a Necessity
Most of the websites are beautifully designed but they don't have a call to action that will allow a customer to make a move. After you've described your product or service, you need to prompt the prospect to contact you. You need to move him forward in the sales process, just as you would if you were making a presentation in person.
Make Contact Information Easy to Find
In some of these beautifully designed websites, the contact information is hard to find and sometimes you can only find it below or the inside pages.
Don't make visitors search for your email or phone number. Put those items right in front of their face, no matter where they are on your site.
The About Us Page Isn't Optional
Some website is beautifully designed but they lack the use of the about us page and this is one of the most important pages where you tell the customer all about your company.
How could visitors decide if they liked and trusted the company enough to award it their business if they didn't know anything about it?
Confusing Navigation
Navigation is a place on the website through which your prospective customers move around your website with ease and the most beautifully designed website lack the proper use of this feature.
What Does Your Company Do?
The most website does not explain to there prospective customers what they do in their company but they end up just telling them how they do their job.
Get Real with Photos
Real pictures are an important component of telling your company's story. Without them, the visitor doesn't feel he knows you and can trust you.
No Testimonials Is a Red Flag
People considering purchasing decisions seek out reviews and testimonials. They want to know that others in the same situation found the right solution.
No SEO? Uh-oh!
Some websites are beautifully designed but customers cannot find it on search engines except they type the company name and also the title of the pages and meta description will be missing it so getting a customer is always an issue.
Here are the features a good website you must have to be highly effective
Make your Home page compelling
Your Home page is prime real estate. After all, that's how most visitors will enter your site. Make your pitch strong, as well as visually appealing, so anyone who lands there is persuaded to walk through the door to the other pages of your site.
Explain what you do, not just how you do it
This information should be readily apparent, easily found on or from your Home page.
Give facts about your company
Don't hide behind generic statements and fluffy descriptions that could apply to any business (i.e."We're committed to quality and customer satisfaction.") Be clear. Be specific.
Include a call-to-action on every page
Remember, the whole goal of having a website is to persuade someone to take action, whether it's to contact you, subscribe or purchase a product.
Make site navigation logical
The navigation menu is not the place to get creative. Use terms people know and understand. Place buttons where visitors expect them to be. They should not have to search hard to find what they want.
Optimize each page of your copy for specific keywords
If you want to rank high on the search engines, optimization is a necessity.
Craft good title tags and description meta-tags
Every page should have unique title tags and description meta-tags. They should employ the same keywords used in the content of the page.
Include testimonials, case studies, and client lists
Nothing is more persuasive than a third-party endorsement. Those votes of confidence will build your company's credibility and authority.
Use real photos when possible
Stock photos are too generic and too fake to make a meaningful impression.
Determine the path you want your visitors to take and then lead them
Look at your site's analytics and see where visitors enter your site (Hint: it's not always the Home page), the order of pages they're viewing and the pages they exit from. Then modify your content to better control the visitors' path and steer them to take action.
Let us fix your website for you at an affordable cost. Need a website? then click here for me to take you there to start up.