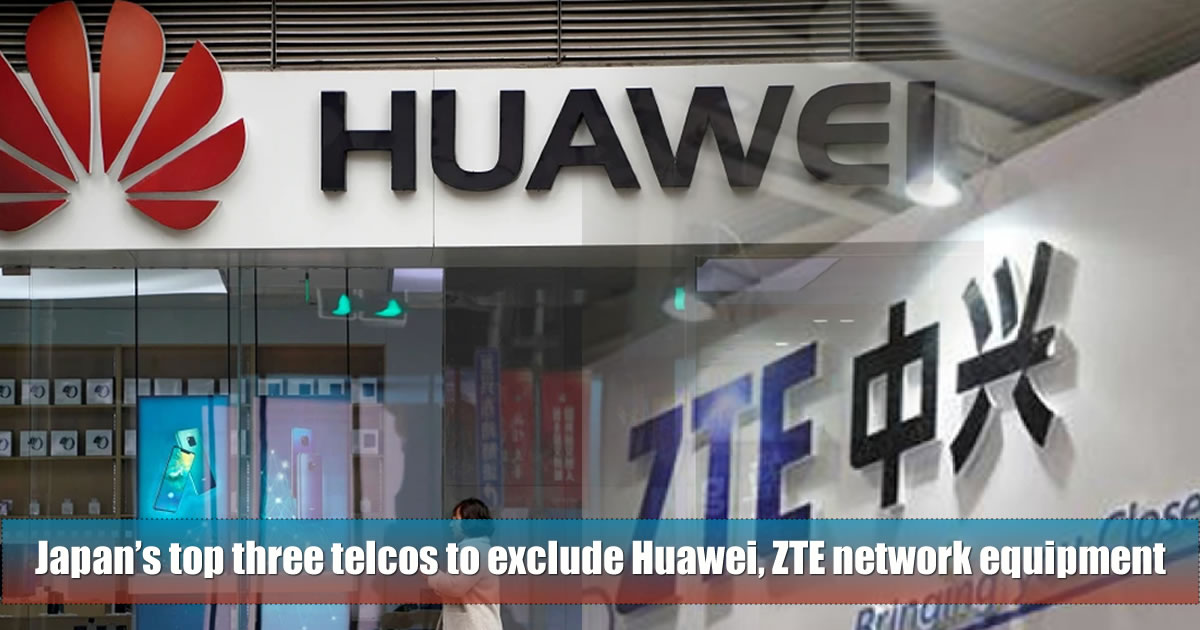 Japan's top three telcos to exclude Huawei, ZTE network equipment and this is a big trying time for the company but we hope they are able to survive it as they have contributed alot to the IT world when it comes to wireless technologies.
Japan's big three telecom operators plan not to use current equipment and upcoming fifth-generation (5G) gear from China's Huawei Technologies Co Ltd and ZTE Corp, Kyodo News reported on Monday.
The news, for which Kyodo did not cite sources, comes at a time of heightened scrutiny of Chinese tech firms by Washington and some prominent allies over ties to the Chinese government, driven by concerns they could be used by Beijing for spying. Last week, from sources that Japan planned to ban government purchases of equipment from Huawei and ZTE to ensure strength in its defences against intelligence leaks and cyber attacks.
A SoftBank Group Corp spokesman said Japan's third-largest telco was closely watching government policy and is continuing to consider its options. The amount of equipment in use from Chinese makers "is relatively small", he said.
Japan's top two telecommunications operators, NTT Docomo Inc and KDDI Corp, said the firms had not made any decision yet.
Docomo does not use Huawei or ZTE network equipment, but it has partnered with Huawei on 5G trials. KDDI also does not use Huawei equipment in its "core" network, a spokeswoman said, adding it does not use any ZTE network equipment.
Asked to comment on the report, Huawei referred to a Japanese government policy document issued on Monday concerning cybersecurity during procurement. That document states the aim of a "free, fair and secure cyberspace".
"These are ambitions Huawei shares and we look forward to continuing to work closely with customers in the Japanese market," a Huawei spokesman said.
ZTE declined to comment on the report.
LOCKED OUT
Huawei has already been locked out of the U.S. market, and Australia and New Zealand have blocked it from building 5G networks amid concerns of its possible links with China's government. Huawei has said Beijing has no influence over it. Japan's decision to keep it out would be another setback for Huawei, whose chief financial officer was recently arrested by Canadian officials for extradition to the United States.
Chinese Foreign Ministry spokesman Lu Kang said China has already had "communication" with Japan about the issue.
China has all along been asking Japan to provide an open, fair and non-discriminatory environment for Chinese companies operating in the country, and Beijing will continue to pay close attention to this issue, Lu told a daily news briefing.
"We believe that Chinese companies' normal operating activities should not be treated in a discriminatory way," he added.
World financial markets have been roiled since news of the arrest, on worries it could reignite a Sino-U.S. trade row that was only just showing signs of easing.
Shares of SoftBank, which has the deepest relationship with Huawei among the big Japanese telcos, fell the most among the three top Japanese telcos on Monday, ending down 3.5 percent.
Industry sources said SoftBank would find it difficult to replace pre-existing Huawei network equipment that is designed for the company and not easily interchangeable. Docomo and KDDI shares fell around 1 percent, in a wider market that closed down 2 percent.
Earlier, SoftBank's Japanese telecoms unit priced its IPO at an indicated 1,500 yen ($13.31) per share and said it will sell an extra 160 million shares to meet solid demand, raising about $23.5 billion in Japan's biggest-ever IPO.