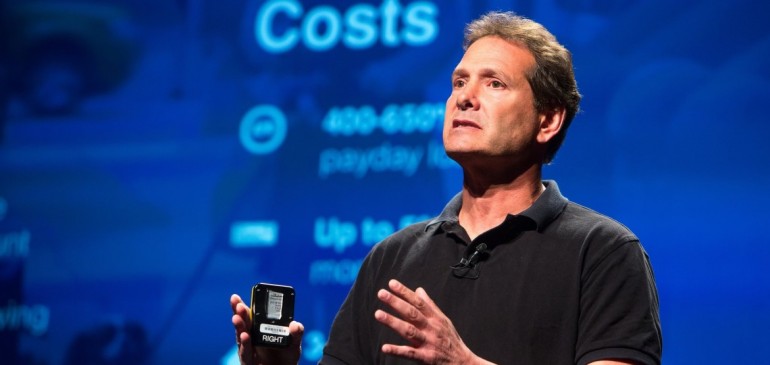 The chief executive of the soon-to-be-public company talks Venmo, bricks-and-mortar retail, and Apple Pay.
As PayPal prepares to become an independent company in the next few months—it'll trade under the old stock ticker PYPL—future company CEO Dan Schulman gave the media a glimpse at what the future will look like for the payment giant at a San Francisco event on Thursday.
eBay EBAY 1.00% of course decided to spin-off PayPal as a public company, the company it acquired more than a decade ago, under pressure from activist investor Carl Icahn.
Schulman cited PayPal's continued strength as growing payments provider to both merchants and consumers. In eBay's first quarter earnings report in April, it was revealed that PayPal's revenue had surpassed that of its parent company for the first time, with revenue growing 14% to $2.1 billion. With $8 billion in revenue in 2014, PayPal could be in the elite group of Fortune 500 companies, he added.
"This growth rate is all about mobile," said Schulman. "Online commerce is being replaced by mobile." Mobile payments through PayPal are up 40% year-over-year and now represent 30% of all transactions.
He cited particular strength in PayPal's peer to peer payments app, Venmo, which allows people to send each other money from debit accounts, effectively replacing checks and cash transactions. In the first quarter of 2014, Venmo did $300 million in transactions. That grew to $1.3 billion in payments volume in Q1 2015.
The next chapter, however, said Schulman is that PayPal is going to "be more than just a button on someone's website." He envisions PayPal to be the operating system, similar to Apple's iOS or Google Android, for commerce. Part of that plan is to a full suite of services that allows consumers and merchants to access any type of funding, whether that be a cash advance, credit, or payment from another person.
The vision itself sounds like the modern version of a bank. Schulman alluded to this, explaining that PayPal's technology could offer consumers easier simpler way to manage and move money, especially people who "live on the margins," of traditional banks. "We want to democratize the management and movement of money." Financial inclusion will be a theme around how PayPal is approaching engaging a new set of younger users in the future, he added.
Growing payments abroad is also going to be a continued focus for the company. PayPal recently inked a deal with Chinese telecom giant China Mobile to allow PayPal merchants to accept payments from users who want to pay using China Mobile carrier billing. PayPal also struck a similar deal with the State Bank of India to allow card holders to have easier access to merchants that use and accept PayPal.
What was less cogent in the vision statement was PayPal's ambition to be present in brick-and-mortar stores. PayPal has previously made efforts to carve out a spot in the physical retail world with its Square competitor PayPal Here, as well as integrations at point of sale registers at large retailers like Home Depot. But both efforts haven't really drawn much adoption and success. In fact, PayPal'sin-store divisions were the hardest hit with the company's layoffs earlier this year.
In an interview with Fortune, Schulman said the reason these ventures had troubles is that PayPal "tried to do things in bespoke way" that carried a lot of risk because the ambition was to change consumer behavior.
In the future, PayPal will be focused on entering the physical world from where it is already a leader—mobile, he said: "This plays into our strengths."
With the PayPal's $280 million acquisition of Paydiant, the company behind mobile wallet technology CurrentC (and Apple Pay competitor), PayPal is betting that consumers will use their mobile phones as a wallet that includes ways to pay, loyalty rewards, coupons, and more.
But Schulman also said during the event PayPal would be open to working with Apple Pay, and Android's payment services as an effort to more of an open platform. He didn't share any further details on how these relationship will evolve in the future.
Fast growing payments unicorn Stripe was recently picked as a provider to process payments for Apple's fledgling payments service–at the time Braintree was missing from the list, but has since been added. Google is also focusing on powering mobile payments with its newly debuted Android Pay, a way for developers to integrate payments into their Android apps.