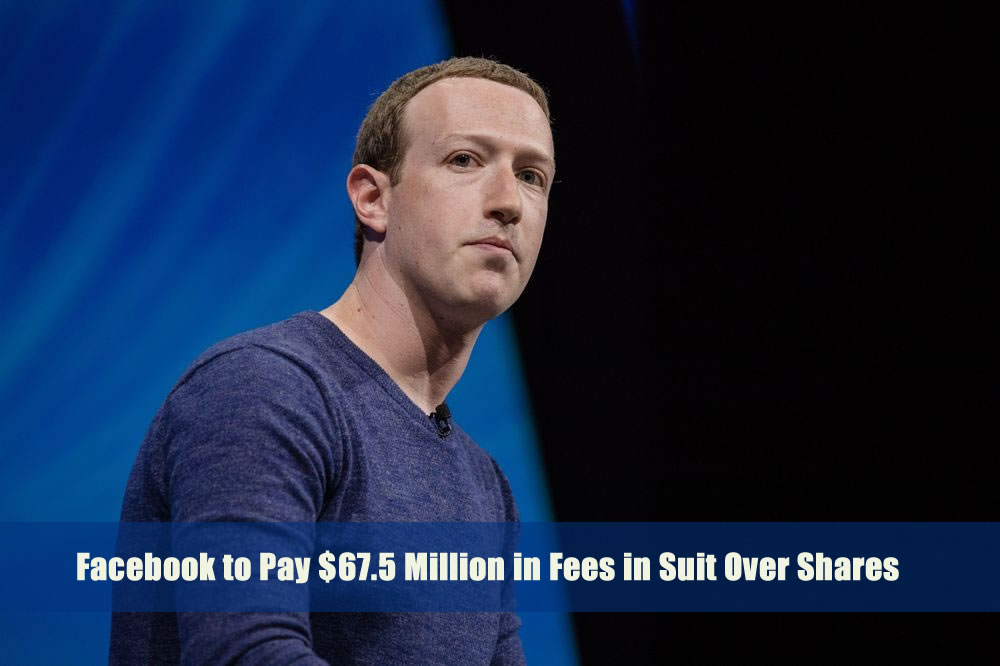 Facebook to Pay $67.5 Million in Fees in Suit Over Shares.
Facebook Inc. agreed to pay $67.5 million in legal fees so co-founder Mark Zuckerberg won't have to explain in court why he dropped a plan to create non-voting shares to further his charitable efforts.
Lawyers for a group of Facebook investors, who sought $129 million in fees for challenging the new share class, agreed to cut their demand by about half to resolve the case, according to a Delaware Chancery Court filing. The settlement may be paid by the company's insurers, the filing shows.
Zuckerberg was criticized for asking directors to create a class of non-voting shares so he could sell most of his Facebook stake to fund charitable works while still keeping control of the world's largest social-media company. The board approved the new stock and a majority of all the company's shareholders had backed the move before Zuckerberg decided to drop the effort last year.
Zuckerberg was scheduled testify next month in Delaware about his reasons for dropping the plan to help a judge decide the value of investors' efforts in fending off the move. Vanessa Chan, a spokeswoman for Facebook, declined to comment Wednesday on the accord over the fees.
Investors' Interests
Objecting investors claimed victory after Zuckerberg nixed the proposal. They said they "challenged the reclassification in this hard-fought litigation'' and deserved to be rewarded for achieving "the outcome they were seeking at trial.'' Stuart Grant, one of the investors' lawyers, declined to comment on the fee settlement.
Earlier this year, a pension fund sued Facebook directors for being too accommodating to Zuckerberg's non-voting share gambit and not working diligently enough to protect other Facebook investors' interests.
According to that suit, Zuckerberg, during a meeting with a special board committee considering the proposal, got real-time texts from director Marc Andreessen giving him a heads up on which of his arguments were gaining traction.
"This line of argument is not helping,'' Andreessen warned in one text. "The committee wants to do this. You don't need to question that.'' In another, the venture capitalist noted "NOW WE'RE COOKING WITH GAS.''
Those kinds of actions by supposedly neutral directors made the committee's evaluation of the proposal "a charade that was designed to appease'' Zuckerberg, the fund's lawyers said in the suit against directors.
The fee dispute was In re Facebook Inc. Class C Reclassification Litigation No. 12286, Delaware Chancery Court (Wilmington). The new investor case is United Food and Commercial Workers Union and Participating Employers Tri-State Pension Fund v. Zuckerberg, 2018-0671, Delaware Chancery Court (Wilmington).